User Story: My Take on Using the NUROUM V15-AF Conference Webcam
---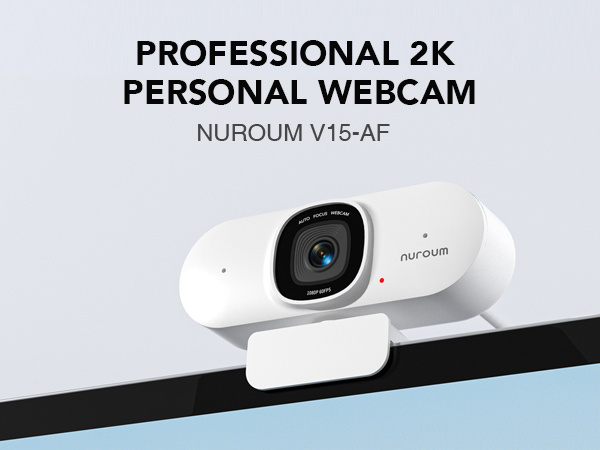 "Welcome to the world of virtual meetings, where every day feels like a scene from The Jetsons. As we navigate through this new era of remote work, one technology that has become increasingly important is the conference webcam. It's the window into our professional lives, connecting us with colleagues and clients around the globe. But have you ever wondered what goes on behind the scenes during these virtual gatherings? Join me as I take you on a journey through my experience using V15-AF conference webcam in remote meetings, giving you an exclusive glimpse at what really happens when we go live."
Introduction of Using V15-AF Conference Webcam
Webcams have become increasingly popular in recent years as a way to remotely connect with others. While they offer a great way to stay connected, there are also some challenges that come along with using them. In this section, we'll take a look at some of the features of using NUROUM V15-AF conference webcam.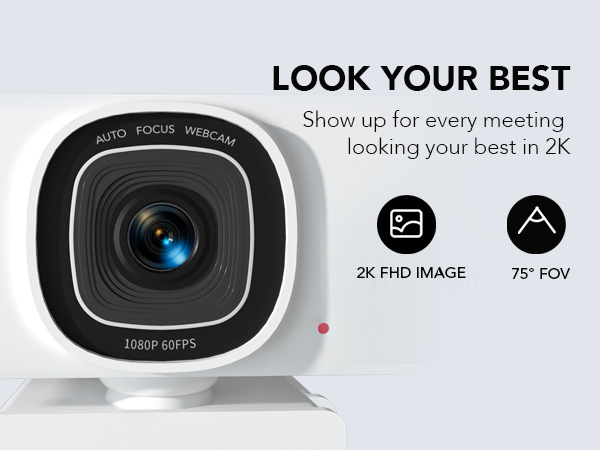 One challenge of using a conference webcam is that the quality of the video can vary depending on your internet connection. If you have a slow or spotty connection, the video can be choppy or low-quality. This can make it difficult to understand what others are saying or follow along with the conversation. NUROURM V15-AF 2K High Resolution Webcam provides high-quality image resolution, brings the best meeting experience for me each time.
If you're in a location with lots of background noise, such as an airport or coffee shop, it can be difficult for others on the call to hear what you're saying. You may want to consider using a webcam that has a noise-cancelling feature if you're in a noisy environment. NUROUM V15-AF webcam has dual AI noise-cancelling microphones, which ensures me to express myself clearly.
Setting Up the Webcam and Its Accessories
When it comes to setting up the webcam for a virtual meeting, there are a few things to keep in mind.
First, if you're using a laptop, make sure the camera is at eye level. This will help ensure that everyone in the meeting can see your face clearly. If you're using a desktop computer, you may need to purchase a separate webcam.
Second, consider the lighting in the room where you'll be holding the meeting. If there's not enough light, your face will appear dark on the screen. You may need to add an extra light source to ensure that everyone can see you clearly. Luckily, NUROUM V15-AFL conference webcam has a fill-in light that can meet your needs.
Finally, make sure the microphone is positioned close to your mouth even if you had noise-cancelling microphones so that your voice can be heard more clearly.
Tips for Making the Most out of Your Conference Webcam
If you're like me, you've been attending a lot of virtual meetings lately. And if you're going to continue attending virtual meetings, you're going to want to make the most out of your conference webcam. Here are a few tips:
Make sure your webcam is at eye level. This will ensure that you appear engaged and attentive to those on the other end of the call.

Position your camera so that your face is well-lit. Poor lighting can make it difficult for others to see your facial expressions, which can impact communication. Fortunately, V15-AF webcam has automatic white balance, which ensures you to look bright.

Consider using a

headset

or earbuds instead of relying on your computer's built-in microphone. This will help reduce background noise and improve audio quality.

Pay attention to your body language. Just because you're not in the same room as the other attendees doesn't mean they can't see your body language. Be aware of how you're sitting or standing, and try to avoid crossing your arms or slouching in your chair.

Mute yourself when you're not speaking. This will minimize distractions for those on the call and allow them to focus on the speaker(s).
By following these tips, you can maximize your conference webcam experience and ensure that you're making the most out of virtual meetings.
User Experience with the Conference Webcam
"When it comes to user experience with the conference webcam, I have to say that I was pleasantly surprised. The NUROUM V15-AF conference webcam was very easy to set up and use, and the quality of the video and audio was excellent. There were no lag times or delays, and the image was clear and sharp. I was very impressed with the conference webcam and would definitely recommend it to anyone looking for a great way to stay connected with colleagues or clients. " - Rob Stanley
Conclusion
In conclusion, using the conference webcam can be a great way to add a professional touch to virtual meetings and help create an atmosphere that is conducive to better communication. It takes a bit of practice and preparation, but it's worth it in the end for those who need something more than just audio chat. With this guide on behind-the-scenes tips for using webcams during virtual meetings, you should have all the tools necessary to make your next meeting effective and engaging.