3 Best 4K Webcams for Video Collaboration in 2023
---
What is a webcam?
A webcam, short for "web camera", is a video camera that is usually mounted on the top of computer screens or laptops. Webcams capture video and transmit it to the computer, which can then display the video on the screen or transmit it over the internet to other devices or applications. They are commonly used for various purposes, such as video conferencing, online streaming, video chatting, and recording videos.
Why need a webcam for video conferencing and streaming?
Many people will think that the original camera of the laptop can already meet the basic use needs of video communication, so why do we need to spend extra money to buy a webcam?
The reasons are as follows:
Enhanced Video Quality: Webcams are specifically designed to deliver high-quality video output. They offer higher resolutions, such as NUROUM's 4K camera, compared to the built-in cameras found in most laptops, which often have lower resolutions.
Improved Low-Light Performance: Webcams are equipped with advanced sensors and technologies that excel in low-light conditions, like NUROUM's V32AFL. In contrast, laptop cameras may struggle to produce clear images in low-light settings, resulting in grainy or poorly lit footage.
Wide-Angle Views: Webcams often come with wide-angle lenses that capture a broader field of view. This feature is particularly useful in video conferencing scenarios where multiple participants are involved, as it allows everyone to be seen without the need for cramming people into the limited frame of a laptop's built-in camera.
Why Choose NUROUM 4K Webcam?
We highly recommend you our NUROUM 4K Webcams. In 2023, we launched 3 new products: the V32AF, the V32AFL and the V34AF. These 4K webcams all offer superior video quality, improved low-light performance and wide-angle views. So it is no doubt that our webcams can elevate your video communication experience to the next level.
The NUROUM V32AF 4K Conference Webcam
The V32AF is a powerful tool designed to enhance your video conferencing or streaming experience. This is a new upgrade of the NUROUM V15, which not only changes the color from white to frosted premium black, but also carries out a comprehensive upgrade.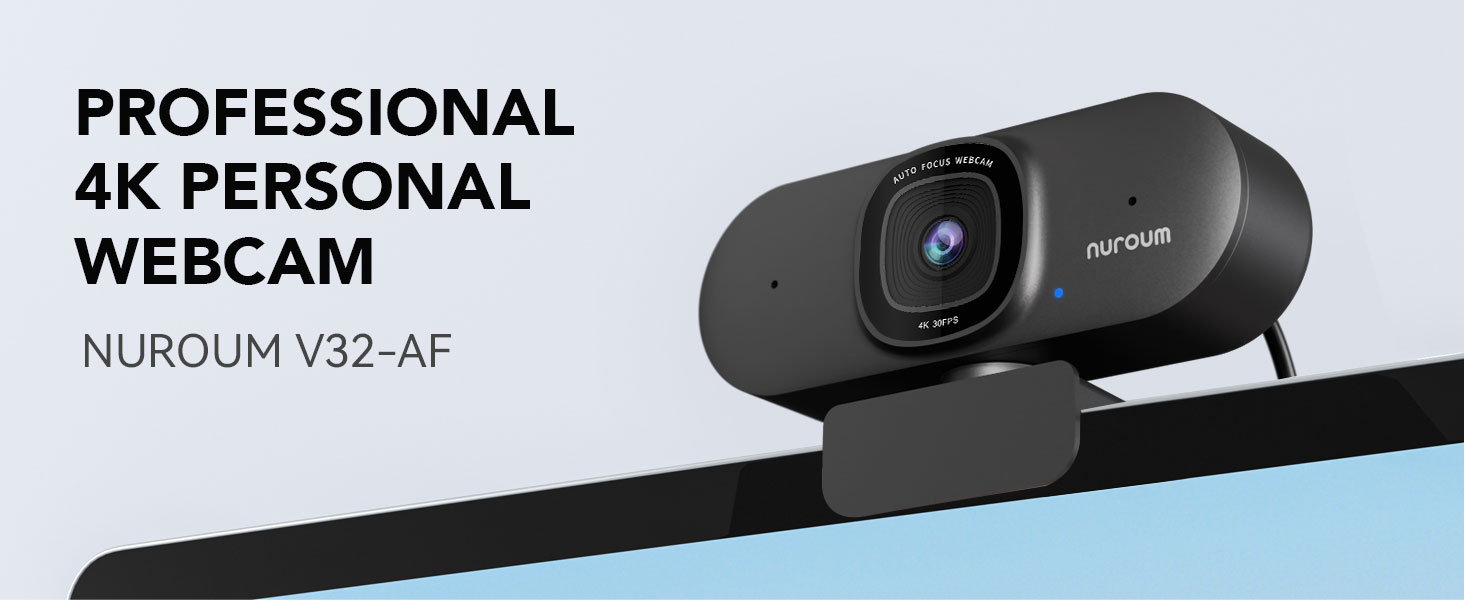 Featuring a 4K high-definition lens and a 90-degree wide-angle lens, the V32AF delivers exceptional video quality. Whether you are presenting slides, demonstrating products, or engaging in a group discussion, the webcam captures every detail with stunning clarity and precision.
With its patented ProperClean technology and AI noise-canceling algorithms, this webcam ensures crystal-clear audio quality by eliminating background noise and echo.
Auto framing and auto focus are two additional standout features of the V32AF. The webcam automatically adjusts the frame and focuses on the speaker, keeping them in the center of attention.
The NUROUM V32AFL 4K Conference Webcam
The V32AFL has the same function as V32AF. What makes it unique, however, is its built-in fill light.
Video conferencing or streaming can take place in various lighting conditions, including low-light environments. The V32AFL fill-in light ensures that the subject remains well-illuminated, resulting in improved visual quality for viewers.
The fill-in light's three distinct brightness levels offer adaptability to any environment. Users can easily adjust the lighting based on their surroundings, making it suitable for indoor and outdoor setups. This versatility allows content creators to maintain excellent video quality regardless of the time of day or location.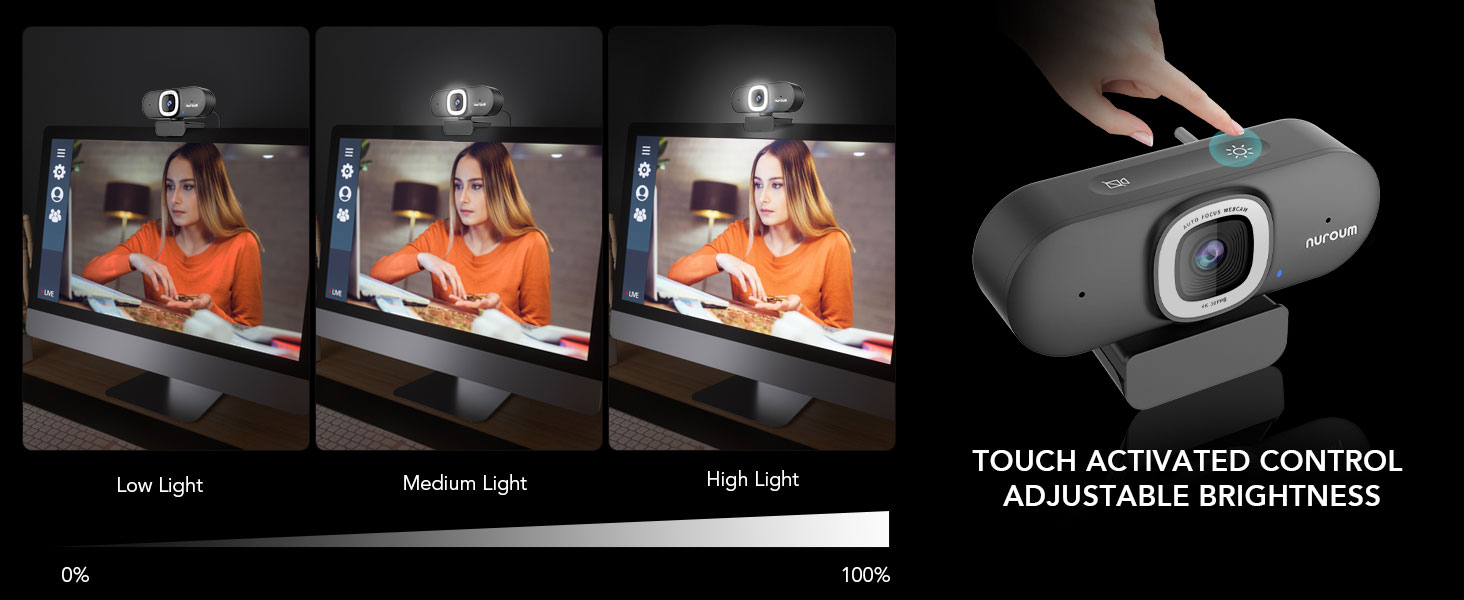 The NUROUM V34AF 4K Conference Webcam
The V34AF takes video conferencing and streaming to the next level. This is a new upgrade of the NUROUM V21, which has been upgraded in all aspects, making it more suitable for professional workers and teamwork.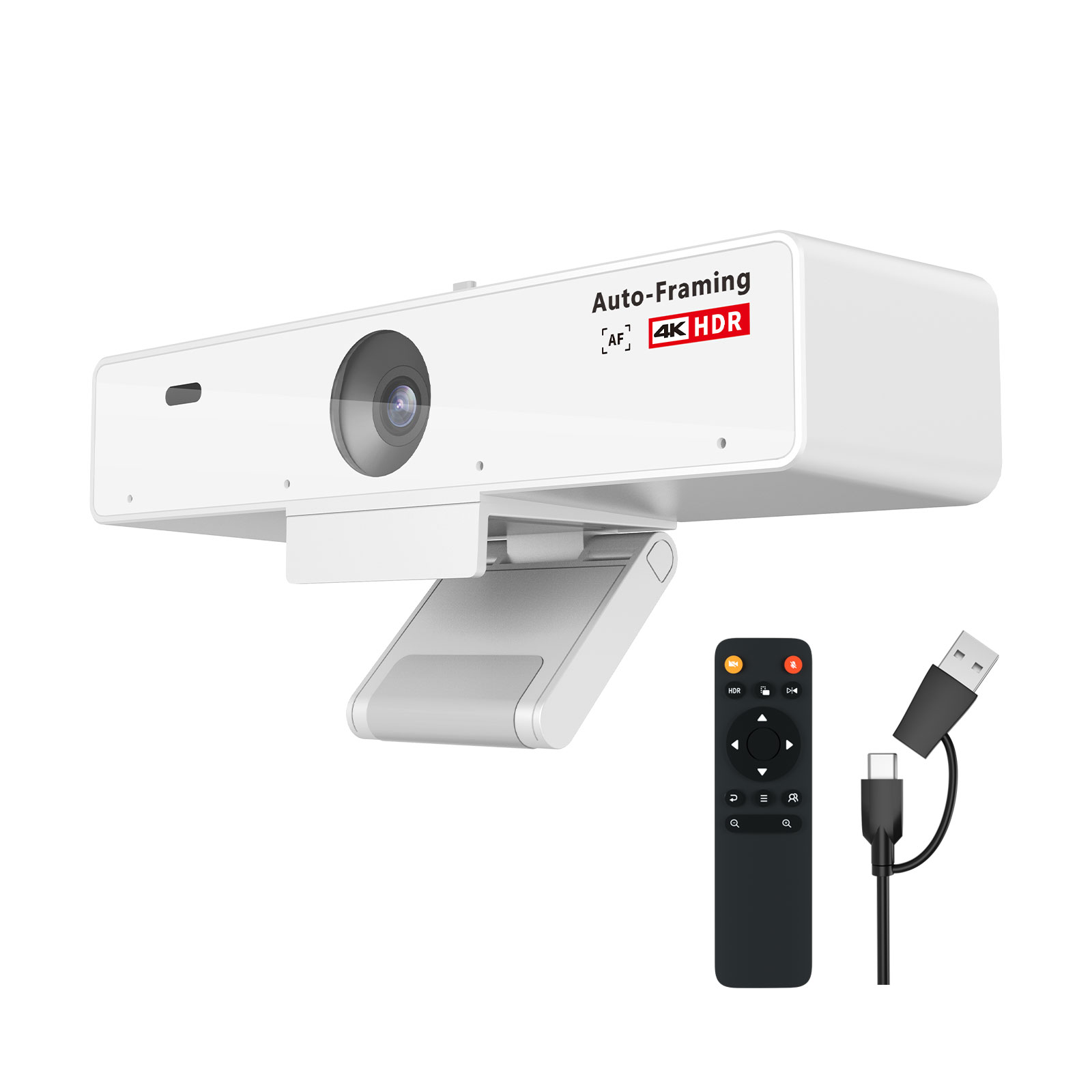 Featuring a 4K HDR resolution and a premium Sony Starvis CMOS sensor, this webcam ensures stunning visuals, even in low-light conditions. Your presentations and streams will be vibrant and captivating, leaving a lasting impression on your audience.
The 90-degree wide-angle lens ensures that everyone in the frame is visible, making it perfect for team meetings and collaborative sessions.
Like its counterpart, the V34AF also equipped with the Properclean technology and AI noise-canceling algorithms. With 4 microphones, it can effectively filter out the background noise, enabling clear communication even in busy surroundings.
Additionally, the auto framing and auto focus features optimize your video communication experience by dynamically adjusting the frame and keeping the speaker in focus.
With the added advantage of 5x digital zoom, you can showcase intricate details without compromising video quality, making it perfect for product demonstrations and online tutorials.
Conclusion
When it comes to video conferencing and streaming, having a reliable and feature-rich webcam is crucial. The NUROUM V32AF, V32AFL and V34AF 4K Conference Webcams offer an impressive range of capabilities to enhance your virtual communication. From their patented ProperClean technology with AI noise-cancelling algorithms to their 4K high-definition lenses, wide-angle views, improved low-light performance and auto framing/auto focus functionalities, these webcams are designed to deliver exceptional video and audio quality.
Remember, a high-quality webcam is an investment in seamless communication, and NUROUM's webcams are built to meet the demands of today's digital world.
NUROUM is always here to provide complete solutions to meet your demand. Please find out more information by joining our community.