How to Conduct a Webinar on Google Meet?
---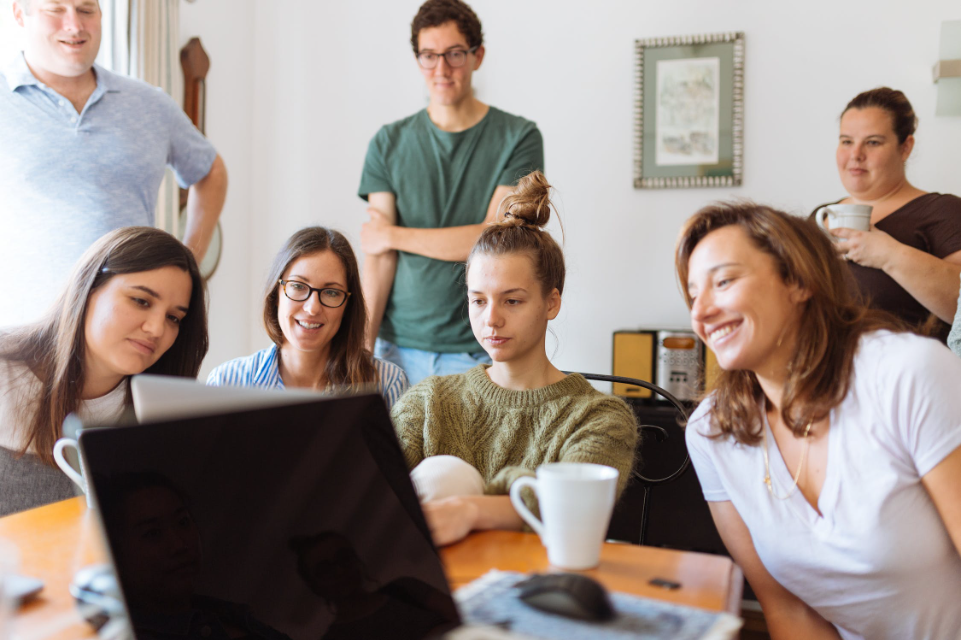 What is Webinar?
In case you still have questions, let's define a webinar before describing how to set up a meeting with Google Meet. A webinar is an educational video that is shared online with a target audience and contains material of high public interest. The typical method is for a business or expert to share their knowledge with their audience, who then responds with questions or offers feedback.
This video introduces advantages and common pitfalls when executing this type of professional development event. The scope of a webinar can arrive at up to 10,0000 people, which means you must have G Suite Enterprise or G Suite Enterprise for Education before you start to make a webinar on Google Meet.
How to Make a Webinar on Google Meet
Here we will look at steps on how to host a webinar in Google Meet, a platform where many businesses work daily conducting work meetings, so as to enhance your online meeting experience.
1. Open a Google account or create one. As we've already indicated, having a Google account is necessary in order to conduct a webinar using Google Meet. Keep in mind that an Enterprise or Enterprise for Education account is required if you want to broadcast live webinars to up to 100,000 people. If you already have your account, you only have to access your user to start testing the software's functionalities.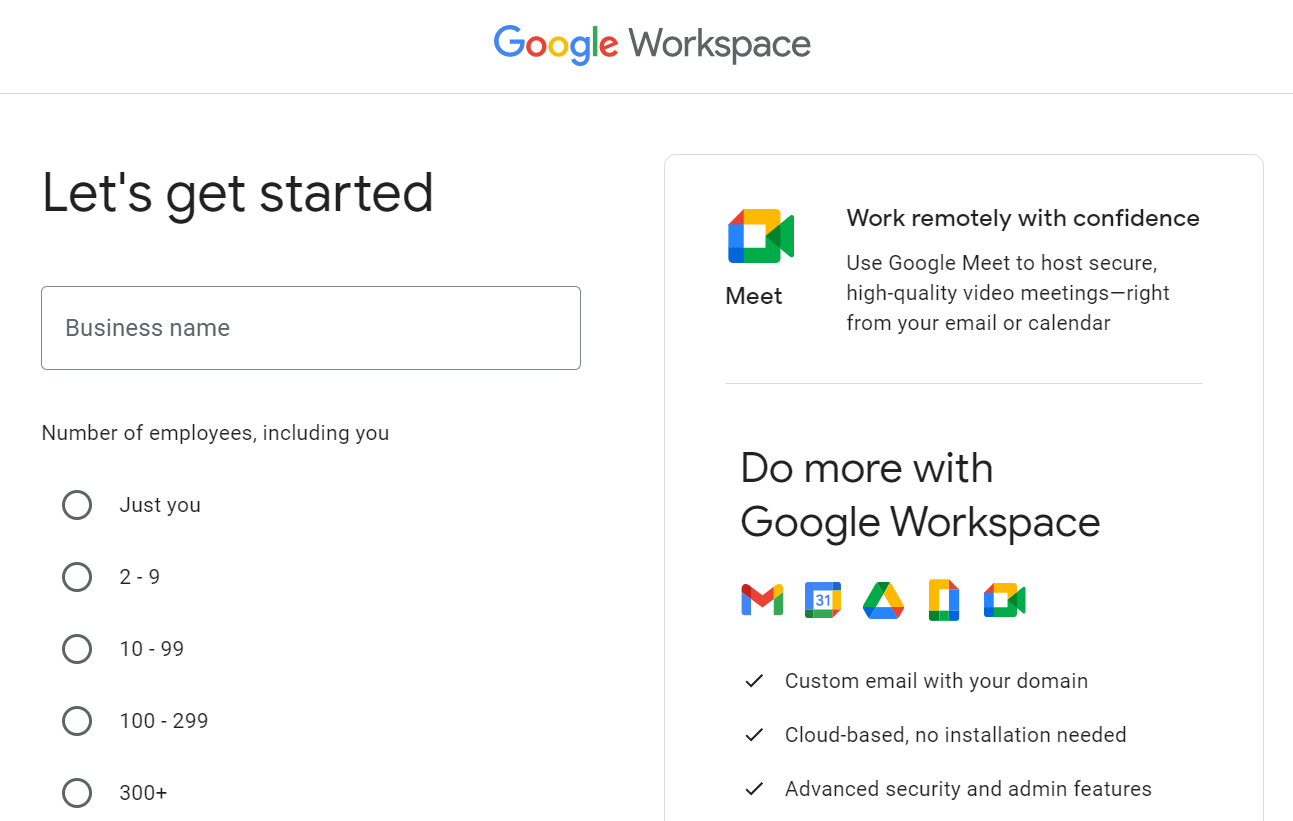 2. Select the time period in Google Calendar by going there. Please be aware that if it doesn't happen immediately, clicking "Add Google Meet video conferencing" is necessary. All that remains to be done is to complete the "Description" box with all the event information and save the meeting.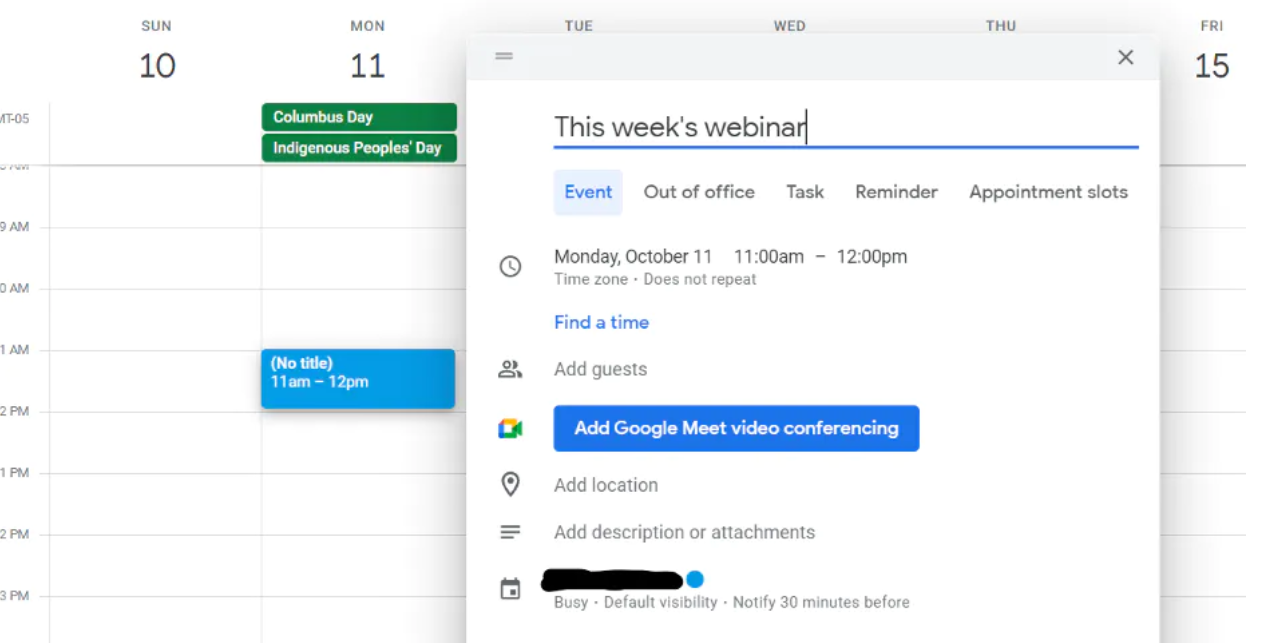 3. Here is a short answer to your question about how to make a Google Meet invitation. After adding your description, touch the attendees' emails in the"Guests" area to add them as guests. Remember to click "Save" after each update. Once you've completed it, you may instantly invite everyone to a Google Meet.
4. You should post the event so that everyone who might attend can access it via the URL. You should accomplish this by selecting "More actions" from the event box and then "Publish the event." After completing it, you will see the meeting link and the embed code for your event on your landing page or email. In order to confirm if your event is public, select "Default visibility" and switch it to "Public". Your meeting is now open to anybody with the link, so they may join.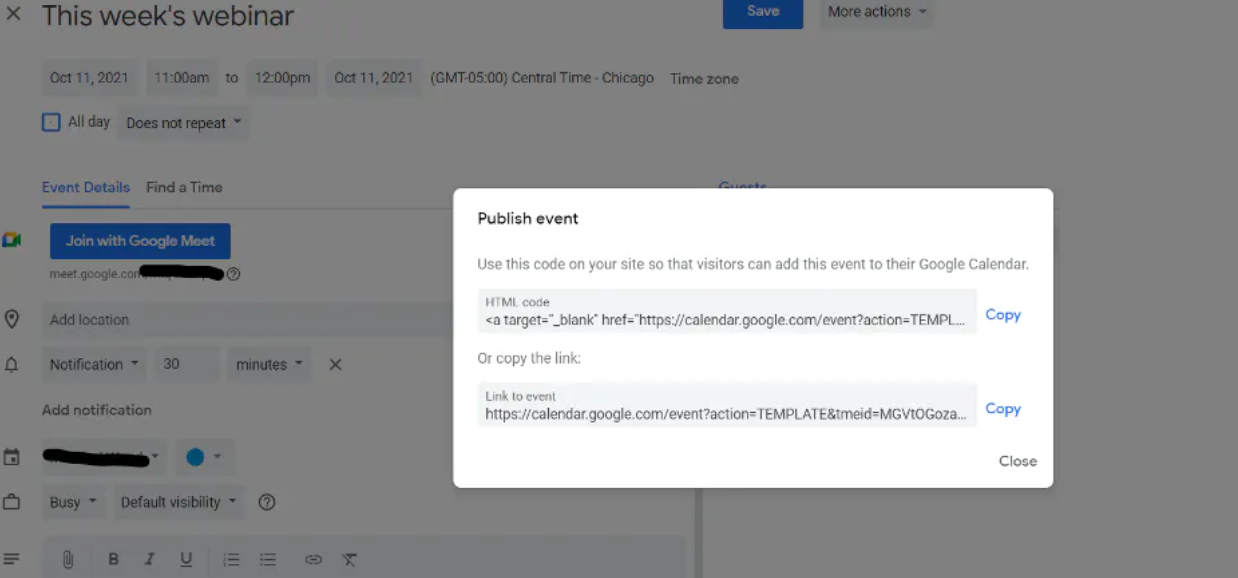 Webinar Software Comparison: Zoom vs Google Meet
Zoom is primarily intended to be used via a desktop application. However, it can still be accessed in the browser or via a mobile device.In contrast, Google Meet can only be accessed in the browser or on mobile.
Zoom users can activate attendees with chats, polls, Q&As, and whiteboards. However, hosts cannot send out CTAs (calls-to-action) during the webinars. In Google Meet, hosts can take advantage of a public chat section and built-in Q&As, but attendees can't approve questions. Zoom also helps its users track data with an in-depth analysis dashboard. However, there are very few automation capabilities. Google Meet also provides a registrant activity dashboard, but has no automation or on-demand streaming.
Zoom provides its users with a comprehensive analysis dashboard that aids in data tracking. However, there aren't many automation options available. Google Meet also offers a dashboard for participant activities, but it lacks automation and on-demand streaming.
Conclusion
As you can see, conducting a webinar on Google Meet is an easy process. By following the steps outlined above and you will conduct a webinar smoothly on behalf of your company. You will also quickly and easily capture all of your important business meetings for future reference.
NUROUM is dedicated to the auditory and visual experience. If you have any wish to enhance your online meeting conferencing ability with high-quality audio and video, NUROUM is always here to provide complete solutions to meet your demand. Please find out more information by visiting the NUROUM website.