How to Fix Zoom Error Code 3190
---
What is Zoom Error Code 3190 ?
Zoom Error Code 3190 is an issue that some users have reported when attempting to delete recurring meetings on the platform and they cannot cancel it. This error message typically appears when a user tries to delete a recurring meeting series using Zoom desktop or mobile app, which can be a temporary issue from Zoom. There are a set of solutions for fixing Zoom error code 3190 now. By now, we can see several users come up with the issue. Look at it as below.

How To Fix Zoom Error Code 3190
The exact cause of this error is not always clear, and it can be frustrating for users who need to remove these meetings from their calendars. Regarding how to fix Zoom error code 3190, there are 4 kinds of solution in the following.
Update your Windows version
It may work your device has been updated to the latest Windows version. Just click Settings on your Windows and select Windows Update, you will see Windows Update as below.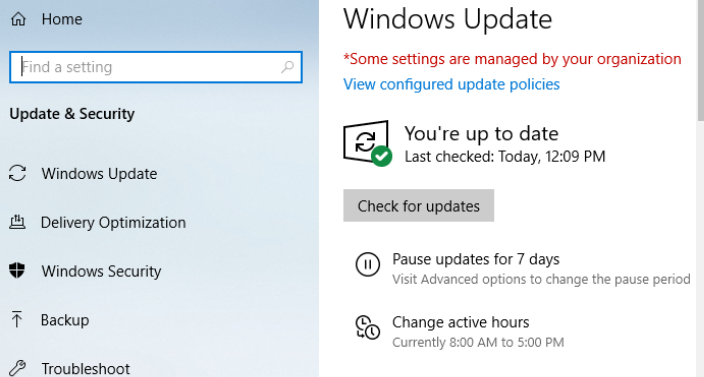 Then click Check for updates and make sure the latest version has been installed. If your Windows has been updated to the latest version. Then you can try to open your Zoom to make sure you have not received Zoom error code 3190. If it doesn't work, please try to see the following steps to seek solutions.
Delete Zoom's recurring meetings on the web
Login to your Zoom account over the web instead of the app.
2. Then, from the navigation menu, select Meeting.

3. Tap on the subject of your recurring meeting.
4. Navigate to the Upcoming tab and choose the recurring meeting you wish to eliminate.
5. Then press the Delete.

6. After selecting Delete, a confirmation window with the options Delete This Occurrenceand Delete All Occurrence will display.
If you wish to eliminate a single meeting, select Delete This Occurrence, or select Delete All Occurrence to delete all meetings.
Restart your device to check the error
If in case the error still persists, then restart your device and then check for the error. It's crucial that your device may be stopped by heavy operations. Simply close Zoom and other apps currently open on your device. Then shut down your device and restart after 1 minute. Then, check if you still receive the error.
Contact Zoom Support team
If you are still unable to deactivate recurring meetings from Zoom online after the troubleshooting steps above, please contact Zoom support for further assistance. Getting in touch with Zoom support may effectively resolve your trouble. Just click here and you will see the interface as follows. Input your questions in the blank and wait for answers from time to time.

Conclusion
In a nutshell, Zoom error code 3190 can be frustrating when we're using Zoom, but it is also a temporary trouble. Confronting with this, we need to be patient to solve the problem step by step, which is listed above including updating Windows version, logging into Zoom on the website, restart your device as well as seek Zoom Support for help. These methods can effectively resolve your issues.
Nuroum is dedicated on the audio-visual industry, producing web cameras, headsets and other related products, trying to improve your working experience. Nearify, a noise-canceling app from our company, is designed to remove your background noise during your meeting, which is free and available on both Mac and Windows. With Nearify, you will not be troubled by the noisy environment, which can enhance your working efficiency. If you would like to know more about us, please join our community to take your meeting to the next level.