How to Make Conference Calls on PCs And Phones
---
In today's fast-paced digital world, conference calls have become an integral part of communication for businesses, organizations, and individuals alike. Whether you're collaborating with remote team members, conducting virtual meetings, or catching up with friends and family, knowing how to make a conference call on both PCs and phones is essential. In this blog post, we'll provide you with a comprehensive guide on how to set up and participate in conference calls on both devices.
How to make conference calls on PCs?
Nowadays, there are a lot of reliable conference call platforms that suit your needs. Popular options include Zoom, Microsoft Teams, Google Meet, and Skype. Let's take Zoom as an example. Actually, these operations are universal, so you can also do the same thing on other conference call platforms.
1. Sign up and Install Zoom
Visit the Zoom website (zoom.us) and sign up for an account. Once you've signed up, download and install the Zoom application on your PC.

2. Schedule a Conference Call
Open the Zoom app and sign in with your Zoom account credentials.
On the home screen, click on the "Schedule" button to schedule a new meeting.
Fill in the meeting details, including the topic, date, time, and duration.
Optionally, you can set a password for the meeting or enable other security features.
Click on the "Schedule" button to finalize the meeting details.

3. Invite Participants
After scheduling the meeting, you'll be presented with options to invite participants.
You can send invitations via email by entering participants' email addresses or copy the meeting invitation and share it manually via messaging apps or other communication channels.
4. Start the Conference Call
When it's time to start the conference call, open the Zoom app and sign in.
On the home screen, click on the "Meetings" tab to see your scheduled meetings.
Locate the meeting you scheduled and click on the "Start" button to initiate the conference call.
Zoom will open a new window where you'll have the option to join with or without video.
5. Managing the Conference Call
Once you're in the conference call, you'll see a toolbar at the bottom of the screen with various options.
Use the microphone icon to mute or unmute your audio.
The camera icon allows you to turn your video on or off.
You can share your screen by clicking on the "Share Screen" button, which is useful for presentations or sharing documents.
To invite additional participants during the call, click on the "Participants" icon and select the "Invite" button.

6. Ending the Conference Call
To end the conference call, click on the "End Meeting" button, usually located at the bottom right corner of the screen.
How to make conference calls on phones?
Use Built-in Phone Features:
Most smartphones come with built-in features for conference calls. Initiate a conference call by dialing the first participant's number. Once the call is established, locate the "Add Call" or "Merge Call" option in your phone's dialer app. Dial the second participant's number and select the merge option to connect all parties.
Third-Party Apps:
Alternatively, you can utilize third-party apps specifically designed for conference calls, such as WhatsApp, Skype, or Zoom mobile apps. Download and install the preferred app from your device's app store. Create an account if required, or sign in with your existing credentials.
Managing Conference Calls:
During a conference call, use the mute button on your phone to minimize background noise when you're not speaking. If you need to add additional participants during the call, access the "Add Call" or similar option and repeat the process. Some conference call apps provide additional features like screen sharing and chat. Explore the app's interface to make the most of these features.
How to improve your conferencing experience?
These days, most people use their laptops' built-in cameras to keep in touch with colleagues. However, these cameras often offer awkward camera angles, low-quality images, and poor audio. More modern solutions, such as Nuroum, allow video conference participants to see and hear each other clearly, enjoying a high-quality meeting experience.
We highly recommend you our NUROUM 4K Webcams. In 2023, we launched 3 new products: the V32AF, the V32AFL and the V34AF. From their patented ProperClean technology to their 4K high-definition lenses, wide-angle views, improved low-light performance and auto framing/auto focus functionalities, these webcams are designed to deliver exceptional video and audio quality. So it is no doubt that our webcams can elevate your video communication experience to the next level.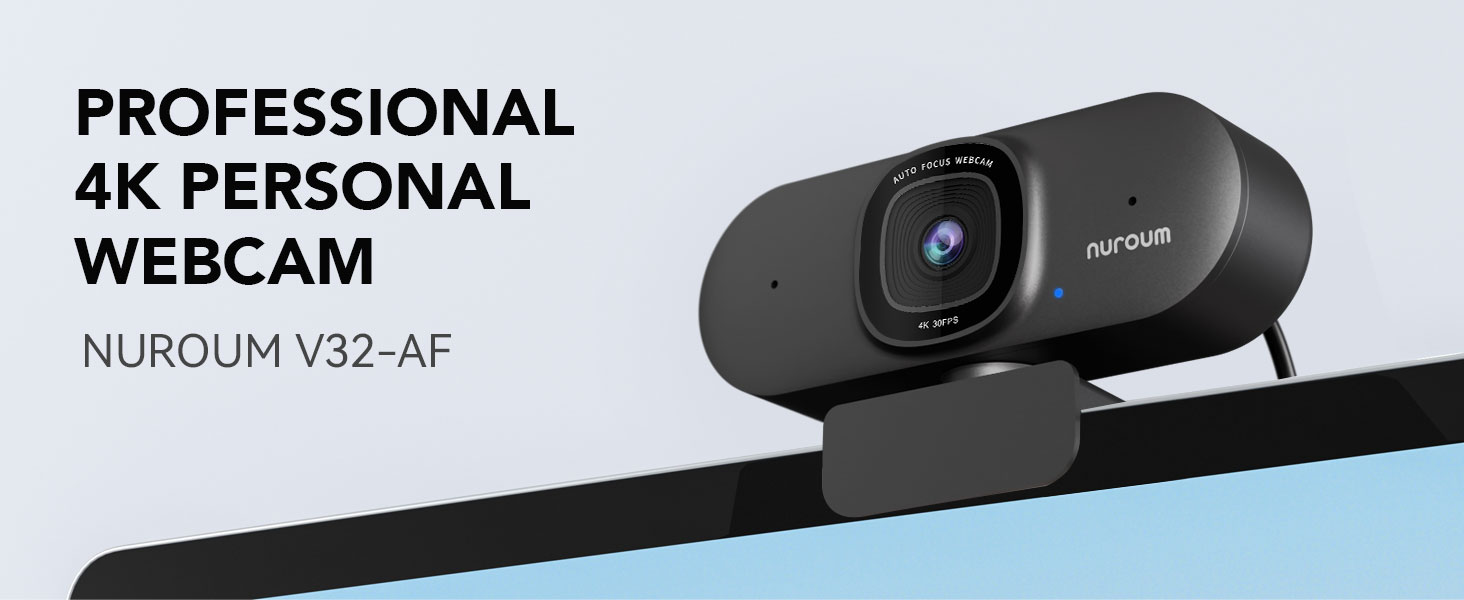 Remember, a high-quality webcam is an investment in seamless communication, and NUROUM's webcams are built to meet the demands of today's digital world.
Conclusion
Efficiently navigating conference calls on both PCs and phones is crucial for effective communication and collaboration. Whether you're using a PC or a smartphone, understanding the process of scheduling, joining, and managing conference calls will help you save time, improve productivity, and connect with others seamlessly. By following the steps outlined in this guide, you'll be well on your way to mastering the art of conference calling on both devices. So, get ready to communicate and collaborate effortlessly, regardless of the platform you choose!
NUROUM specializes in producing webcams and related products to deliver a seamless hybrid work experience. Whether you require external video conferencing equipment, NUROUM is committed to offering comprehensive solutions that cater to your needs. Explore more details by joining our community.