What is Annotation on Zoom and How to Use it
---
What is Annotation on Zoom and Why We Use it
Annotation is one of Zoom's outstanding features,which allows users to be precise and draw attention to critical points during the presentation. Annotation in Zoom only works when users share their screen or enable the whiteboard. Then you can access all these wonderful features without having to set up an account.
Collaborating through video has become quite the standard in the last two years, with Zoom carving out a position as one of the best free video conferencing software options. One of the reasons it's so popular is how well it attempts to add the human touch – literally – to its video-messaging features via real-time on-screen annotations and the Zoom Whiteboard.
What's more, there are several benefits that annotation on Zoom has brought. First, Using annotations while presenting on Zoom makes it easier for your viewers to understand you and also helps you hold their attention. Second, it allows you to present with both visual and verbal cues, helping your viewers follow you easily, and taking away some of the vexations of communicating through a screen. In a word, The combination of screen sharing, screen annotation and video recording allows teams to collaborate and brainstorm remotely.
How to Annotate on Zoom
In a Zoom conference, you can choose to share your full screen or just a section of it, certain windows or running programs, a particular file on your computer, or a blank Whiteboard where you can draw as you speak to help the other participants better comprehend what you are saying.
Select the Share Screen option from the meeting controls displayed at the bottom. If you don't see the option here, you' ll find it in the More menu.
From the dialogue box that appears, choose how you wish to share your screen, then click Share. Even if you transition to other windows or programs on your system, if you choose to share certain windows, only those windows will ever be shared with your participants. You will be informed that you are sharing your screen by a green bar at the top of the screen.
To access the Zoom annotation bar, locate the Annotate button at the top. If you decide to share a Whiteboard, annotation controls are immediately shown.
Then, you will see a variety of tools to choose from in the annotation toolbar, including:

Mouse: Deactivate annotation tools and switch to your mouse pointer. This button is blue if annotation tools are deactivated.
Select (only available if you started the shared screen or whiteboard): Select, move, or resize your annotations. To select several annotations at once, click and drag your mouse to display a selection area.
Text: Insert text.
Draw: Insert lines, arrows, and shapes.
Note: To highlight an area of the shared screen or whiteboard, select following square or circle icon to insert a semi-transparent square or circle.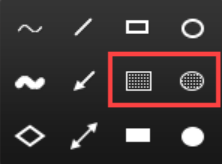 Stamp: Insert predefined icons like a check mark or star.
Spotlight / Arrow / Vanishing Pen: Turn your cursor into a spotlight or arrow.
Eraser: Click and drag to erase parts of your annotation.
Format: Change the formatting options of annotations tools like color, line width, and font.
Undo: Undo your latest annotation.
Redo: Redo your latest annotation that you undid.
Clear: Delete all annotations.
Save: Save shared screen / whiteboard and annotations as a PNG or PDF. The files are saved to the local recording location.
Note: This option is only available to viewers if the host has allowed others to save.
To change the file format, click the downward arrow next to Save and select one of these options:
PNG: Save as a PNG file. If there are multiple whiteboards, Zoom will save a PNG file for each whiteboard.
PDF: Save as a PDF. If there are multiple whiteboards, Zoom will save a single PDF containing all whiteboards.
How to Enable or Disable Annotation for Other Participants
The actions listed below should be followed if you are the host and wish guests to annotate on Zoom using the screen or whiteboards. However, this section will assist you if your participants have the ability to annotate but are misusing it or you wish to deactivate it for any other reason.
While screen sharing, select More from the floating meeting controls.
From the menu that pops up, you can choose to Disable/Enable Annotations for Others or Hide/Show Names of Annotators.
Conclusion
Through the steps of learning annotation on Zoom meeting, our presented content will be paid more attention by other participants. Annotation on Zoom will make our presentation both visual and verbal, substantially improving our online meeting efficiency.
There are also other methods to improve the quality of online meeting, Nearify is a free noise canceling APP for meeting freedom. If you want to learn more about the products from Nuroum, please click here to take your virtual meetings to the next level.