What Is Daisy Chain Speakerphone?
---
In today's fast-paced world, effective communication is crucial, especially in the business and corporate sectors. Whether it's a conference call, virtual meeting, or collaborative session, clear and uninterrupted audio plays a vital role in ensuring effective communication. This is where daisy chain speakerphones come into the picture, revolutionizing the way we conduct conferences and meetings.
What is daisy chain?
In the technology world, a daisy chain is a wiring scheme in which multiple devices are wired together in sequence or in a ring, similar to a garland of daisy flowers. It contains two basic categories: linear daisy chains and ring daisy chains. Both are well understood. The first is to connect the devices linearly to form "a straight line". The second is to connect the devices in a ring to form "a circle".
What are daisy chain speakerphones?
Daisy chain speakerphones, as the name suggests, allow users to connect more than one speakerphones together in a daisy chain configuration. This setup enables participants to enjoy high-quality audio and effectively communicate with one another.
Why need daisy chain speakerphones for conference?
Enhanced Audio Quality: When multiple speakerphones are connected in a daisy chain, the audio signal is passed from one device to another, resulting in improved sound quality. This setup ensures that all participants can hear and be heard clearly, even in larger conference rooms.
Extended Coverage: In large meeting rooms or conference halls, a single speakerphone might not be sufficient to cover the entire area. By daisy chaining multiple speakerphones, you can extend the audio coverage, ensuring that everyone in the room can participate in the discussion without straining to hear or be heard.
Seamless Collaboration: Daisy chain speakerphones facilitate seamless collaboration by allowing everyone in the conference room to actively participate in the conversation. With improved audio quality and extended coverage, participants can engage in discussions without the need to huddle around a single device.
Meet Nuroum A15 Bluetooth Speakerphone
Now, let's take a closer look at Nuroum A15 Bluetooth Speakerphone, which incorporates daisy chain functionality along with several other impressive features.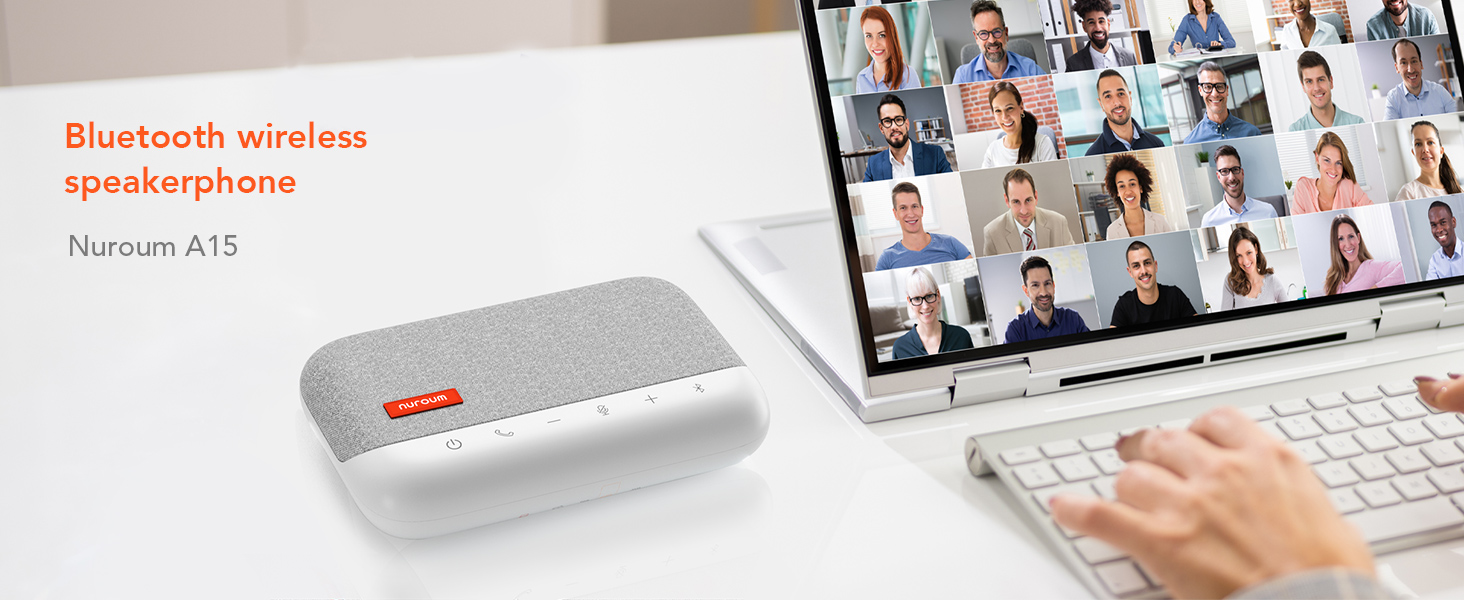 Connect 2 A15 conference speakers with Nuroum special cable to easily work well in small meetings (under 8 attendees) and medium to large meetings (up to 16 or more attendees). Additionally, daisy-chain setups will not degrade audio quality even if the cables are too long or there are too many devices in the chain.
3W HIFI Speaker with Advanced AI Noise-cancellation Technology
With its high-quality speaker and its patented ProperClean technology, this speakerphone effectively filters out background noise, enabling clear communication even in busy surroundings and at the same time ensuring crystal-clear audio quality.
With a pickup distance of 3 meters and 360-degree voice pickup, the A15's 4 MEMS Mics can capture audio from all directions, eliminating the need for participants to position themselves close to the speakerphone.
Plug and Play & Bluetooth 5.0
The A15 offers multiple connectivity options, including Bluetooth 5.0 and a Bluetooth adapter, or USB-A/C cables. Simply connect it to your computer via USB cable and to your phone via Bluetooth, and you're ready to take calls on both.
The A15 provides a standby time of 180 days, making it a reliable and long-lasting solution for conference calls. It even offers reverse charging functionality, allowing you to charge your smartphone using the speakerphone.
The A15 is compatible with multiple devices, operating systems such as Windows or Mac OS and most popular conferencing platforms like Zoom, Microsofts, and GoToMeeting.
How to use daisy chain function on A15?
A Nuroum daisy chain cable is required.
Connect the first A15 Speakerphone to the computer through Bluetooth or USB cable.
Plug either end of the daisy chain cable into the OUT/LINK port of the first A15.
Plug the other end of the daisy chain cable into the IN port of the second A15.
Start your meeting.

Conclusion
In conclusion, daisy chain speakerphones like Nuroum A15 Bluetooth Speakerphone have revolutionized the way we conduct conferences and meetings. With enhanced audio quality, extended coverage, and seamless collaboration, these devices enable effective communication and productive discussions. So, if you're looking to upgrade your conference room setup, consider investing in a daisy chain speakerphone like the A15 to take your communication experience to the next level.
NUROUM is always here to provide complete solutions to meet your demand. Please find out more information by joining our community.