What Is IU Zoom and How To Use IU Zoom
---
In the post-pandemic era, attending lectures on Zoom has become a routine for students. This popular video conferencing platform is now widely adopted by colleges and universities for teaching and live streaming activities. At Indiana University (IU), Zoom has become an essential tool for distance communication.
What is IU Zoom
IU Zoom is a powerful online meeting platform exclusively available to students, professors, and staff of IU. It enables members of the IU community to seamlessly communicate and collaborate with each other from anywhere in the world. With high-quality video and audio, IU Zoom makes hosting class sessions, meetings, and group activities online a breeze. Additionally, the platform offers an array of free features, including breakout rooms for group activities, the ability to record and download meetings, and many more tools to facilitate distance learning.
What are the advantages of IU Zoom?
IU Zoom provides numerous advantages for remote lecturing and online activities, particularly during the ongoing pandemic, where maintaining social distance is crucial. One of the most significant benefits is that it enables classroom teaching to continue safely, without endangering anyone's health. With IU Zoom, community members can communicate and discuss instantly, ensuring that teaching remains uninterrupted despite the pandemic's challenges.
Moreover, IU Zoom offers several useful features such as breakout rooms, chat boxes, and screen sharing, which enhance the effectiveness of online teaching and promote student engagement in the class. These features allow for interactive and collaborative learning experiences, creating a dynamic and productive virtual classroom environment.
Apart from these benefits, IU Zoom also functions as a virtual campus, exclusively accessible to those with an IU username and password. This exclusivity guarantees a unified academic environment, maintaining the privacy of on-campus members and classroom content. External users can request access to IU Zoom, ensuring that only authorized individuals can access the online campus.
How to log in IU Zoom
Download or update the Zoom application to the latest version of your device before using it.
Choose sign in with SSO and enter "iu" in the box as "Company Domain", then click continue.
Zoom will open an browser window, if you haven't log in the IU site before, it will show the IU login entry. Login in with your IU username and password to continue.
Once you logged in, the following paged will displayed, and the browser attempted to open Zoom server. If your browser asks to open zoom, click open.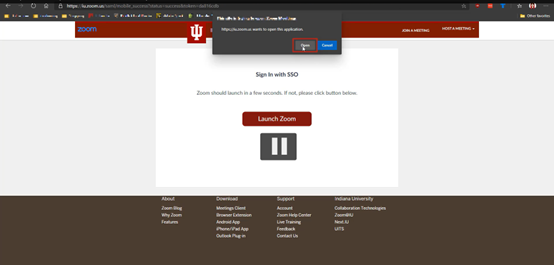 Once you clicked open you will be redirected to the Zoom and you will be logged in.
Now you are ready to use HD-quality video and audio for your classes, web conferences and collaboration.
Conclusion
In summary, IU Zoom is an essential tool for remote learning and teaching, offering various features and benefits that promote effective and engaging virtual classrooms. Its exclusivity ensures a unified academic environment, protecting the privacy and safety of students and faculty alike.
We hope that this blog will be helpful for members of the IU community who are looking to learn how to use the Zoom platform. Additionally, you can explore the features of Zoom and learn more about how to use them by visiting the IU IT service
If you wish to improve your online meeting conferencing experience at IU with high-quality audio and video, NUROUM is pleased to provide perfect solutions to meet your needs. For teachers and students, we recommend our headset HP30 or conference webcam V11 to ensure your participants can see or listen to you with clarity. Found out more by visiting the NUROUM website.