Best Headsets: Perfect for Working and Gaming
---
Introduction
Headsets have become an essential tool for professionals and game players alike. These versatile devices offer convenience, superior sound quality, and ease of use. Whether you're working from home, engaging in online meetings, listening to music, or immersing yourself in gaming adventures, a reliable 3.5mm-jack/USB/Bluetooth headset with microphone is a must-have accessory.
Why NUROUM?
Best wired USB headset
For people seeking a headset that excels in both business environments and gaming sessions, the NUROUM HP11-DU Business-Grade Headset is a top choice.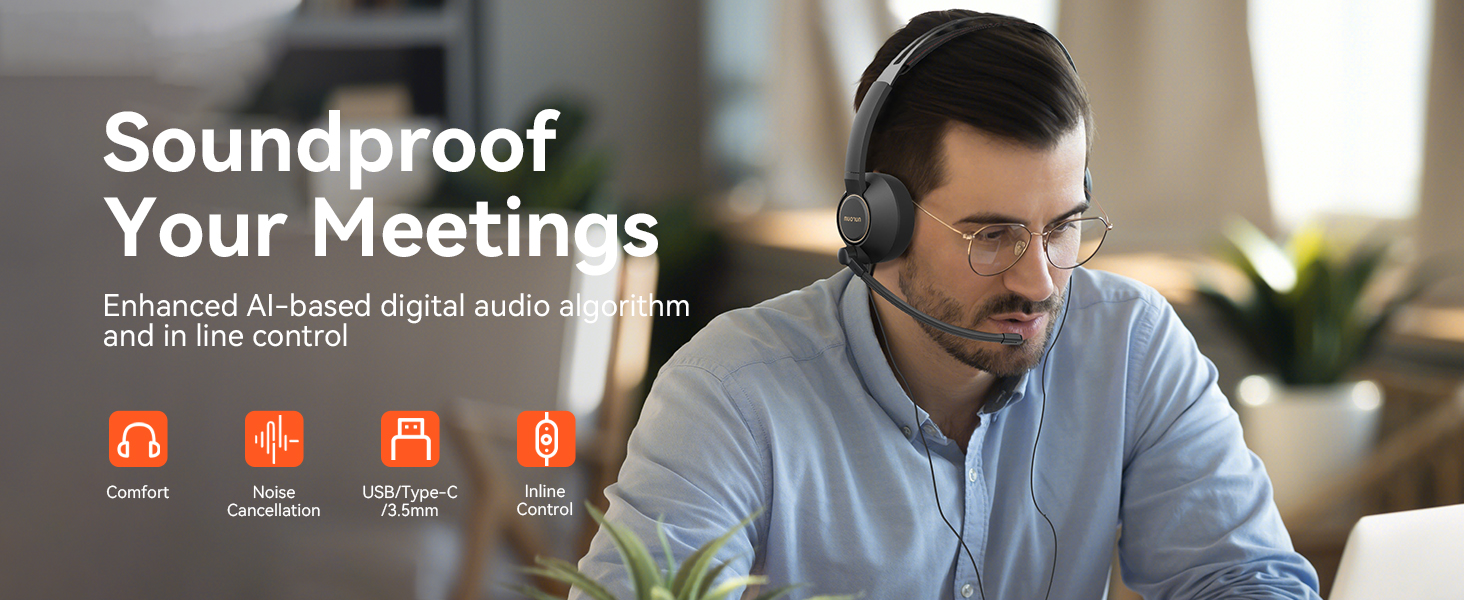 With its deep learning noise-canceling and patented Properclean technology, it effectively filters out background noise, enabling clear communication even in busy surroundings. Whether it is for those who need to work in noisy environments, or who want to immerse themselves in games or music, this headset is perfect for you.
What's more, the headset, equipped with a detachable in-line control unit allows users to effortlessly manage their headset settings with a simple touch of a button. Therefore, users can easily adjust the volume, ensuring optimal audio clarity during calls or while listening to music or playing video games.
Additionally, the 270-degree rotatable microphone allows for personalized positioning, ensuring optimal voice capture. The headset also features a lightweight design for long-lasting comfort, with its pillow-soft ear cushions and an adjustable padded headband.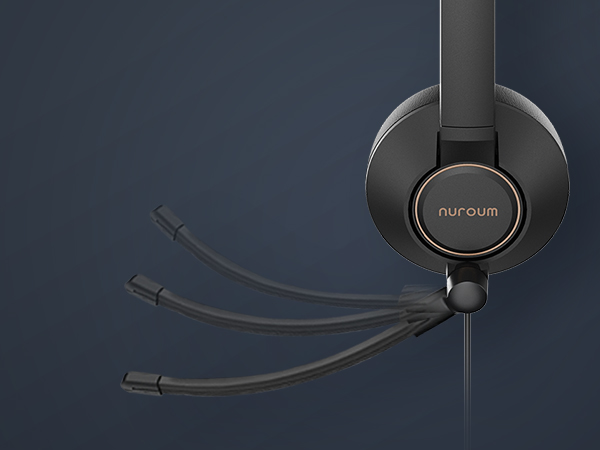 The HP11-DU offers USB-A/type-C/3.5mm jack, and can instantly used with your desktops, laptops, tablets, smart phones and more, making it compatible with Skype, Microsoft Teams, Zoom, Webex, Google Meet and etc.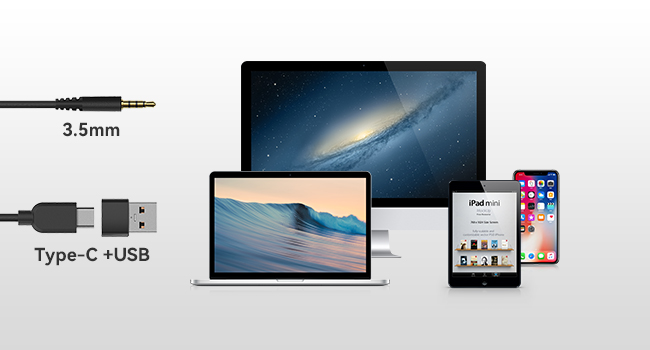 For those of you who prefer one-sided headsets, we have another sister product:the NUROUM HP11-SU. It has the same features as the HP11-DU, but the single-sided setting allows you to listen to your colleagues while working at the same time.
Best wireless Bluetooth headset
The NUROUM HP30 Bluetooth Headset is the go-to option for people who value wireless connectivity and premium features. Whether you're working remotely or need a versatile headset for business and gaming, the HP30 delivers exceptional performance.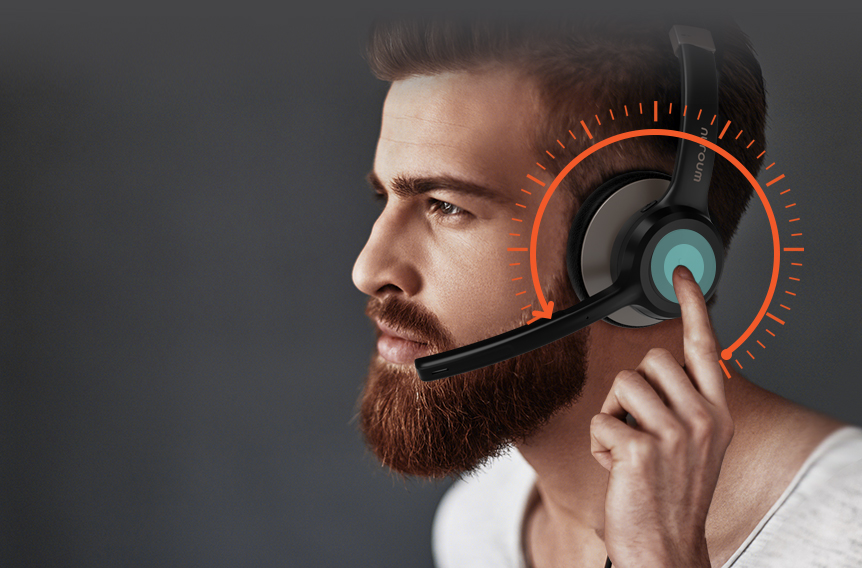 The headset utilizes Bluetooth 5.0 technology, providing a reliable and stable wireless connection. With the freedom of movement, you can comfortably attend calls, participate in virtual meetings, and collaborate with ease, whether you're at your desk or on the go.
One of the key features of the HP30 Bluetooth Headset is its dual-microphone noise-canceling technology. This advanced feature effectively filters out ambient noise, ensuring clear and uninterrupted communication. Whether you're in a bustling office, a noisy coffee shop, or a busy home environment, the HP30 enables you to engage in conversations without distractions, allowing you to focus on your work or your game.
What's more, the HP30 features fast charging capability. A 2-hour full charge guarantees 12 hours of talk time and 15 hours of listening to music. At the same time, it also can be connected to devices via USB-A&C dongle.
Comfort is not compromised with the HP30 Bluetooth Headset. It is designed with ergonomics in mind, featuring padded ear cushions and an adjustable headband for a comfortable and secure fit. It also offers a 250-degree rotatable microphone for personalized positioning. Whether you're wearing the headset for a quick call, an extended work session or a long-time gaming, you can enjoy a comfortable experience.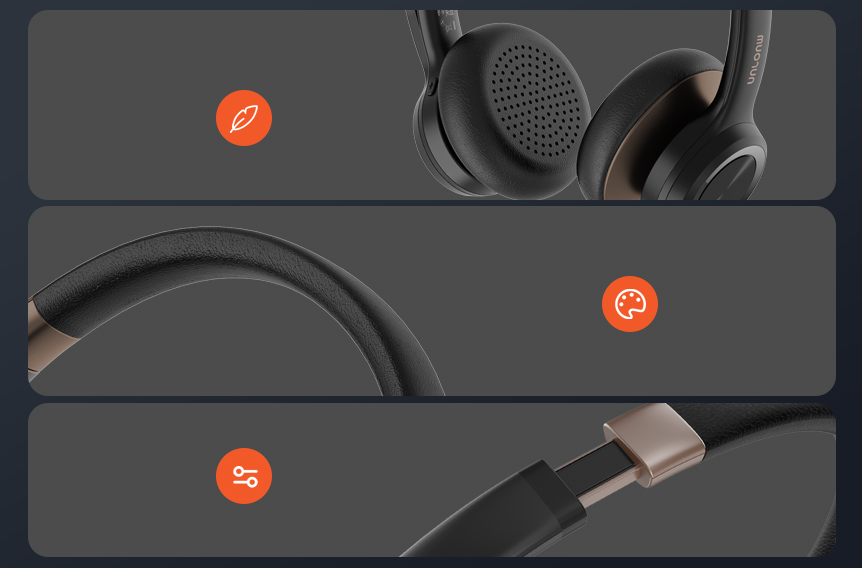 Best wired 3.5mm headset
For those seeking for a perfect wired 3.5mm headset wit both high quality and low price, NUROUM HP11D Wired Headset is the best choice.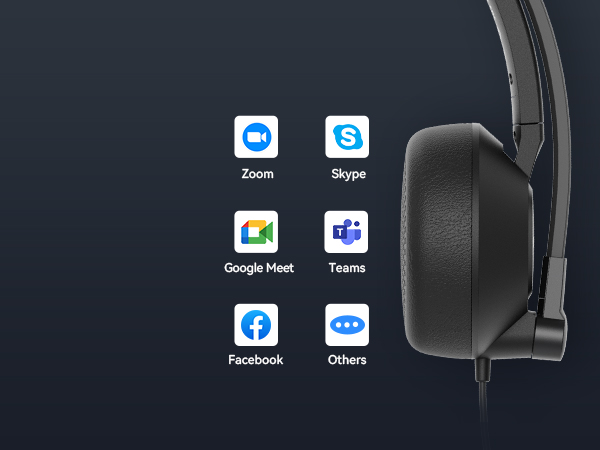 With its plug-and-play functionality, it is effortless to set up, making it perfect for call center employees and remote collaboration. The HP11D provides excellent sound performance, allowing you to enjoy music with restored details and dynamic range. Its 270-degree rotatable microphone offers flexibility, ensuring optimal positioning for clear voice capture. The headset's all-day comfort, compatibility with popular communication platforms, and wide device compatibility make it a top contender for work-related tasks and virtual meetings.
For those of you who prefer one-sided headsets, we have another sister product:the NUROUM HP11S.
How to connect NUROUM headsets to your devices?
For wired headsets, the operation is very simple, just plug and unplug to use or stop using.
For Bluetooth headsets, you need to:
Make sure theBluetooth headset is charged and turned on.
Enable Bluetooth on your device. Look for a toggle switch or an option to turn Bluetooth on.
Put your Bluetooth headset into pairing mode.
Select your Bluetooth headset from the list of available devices. Tap or click on the headset's name to initiate the pairing process.
Once the connection is established, your device will show a confirmation that the Bluetooth headset is connected. You should hear a confirmation tone or see an indicator light on the headset indicating a successful connection.
Conclusion
Headsets have revolutionized the way we work and play. The recommended NUROUM headsets all offer a perfect blend of functionality, comfort, and superior sound quality. Whether you're collaborating with colleagues, participating in virtual meetings, or immersing yourself in gaming adventures, these headsets are equipped to meet your needs. Invest in a high-quality headset that suits your requirements and elevate your work and gaming experiences to new heights.
NUROUM is always here to provide complete solutions to meet your demand. Please find out more information by joining our community.