The Best Guide to Noise Canceling App in 2023
---

What is Noise Canceling App and How it Works
Noise canceling apps are tools that aim to reduce background noise when listening to audio. They use algorithms to identify, segment, and filter unwanted sounds from the desired audio signal.
They work by identifying and removing specific frequencies of sound that interfere with the user's audio experience. Active noise cancellation is the most popular kind of noise cancellation technology. (ANC). When ANC detects noises in the surrounding area, it creates a "anti-noise" to drown them out. This anti-noise may occasionally be produced by generating a sound wave that travels in the opposite direction from the original audio wave. In some instances, ANC employs a "feedback loop" in which the environmental noise is recorded, slightly amplified, and then played back out of phase with itself, thereby producing "anti-sound" to cancel out the original audio wave. Adaptive noise reductions are another type of noise canceling technique. (ANR). ANR differs from other anti-noise technologies in that it analyzes incoming sound waves to identify which frequencies should be deleted or lowered before they reach your ears. The benefit of this technology is that it can react to changes in ambient levels more quickly than classic ANC systems and does not require much human input.
The Best Noise Canceling App in the Market
1.Noise cancellation app for Android
Noise Killer
Noise Killer is an Android-only app. It is the best option for managing noise in public spaces. It's the perfect fit when you need some quiet when working in a noisy office, classroom, coffee shop, etc.
Key features
Noise level monitoring
Automatic volume adjustment
Speed movement monitoring
Geo-position access
Shake function
Pricing plans
Noise Killer is free to install and use.
How to use it
Download it here, you will see the interface then below.
The app comes with a very straightforward interface. You get to monitor sound levels and will receive alerts if any sound exceeds the noise level you have set. There are a number of alert options: text alert, vibration, beep, "Quiet Please," and "Shhh".
You can also use the app to increase or decrease the volume of the device based on the level of background noise. There is also an onboard "shake" feature that can change the volume based on how your phone is moving.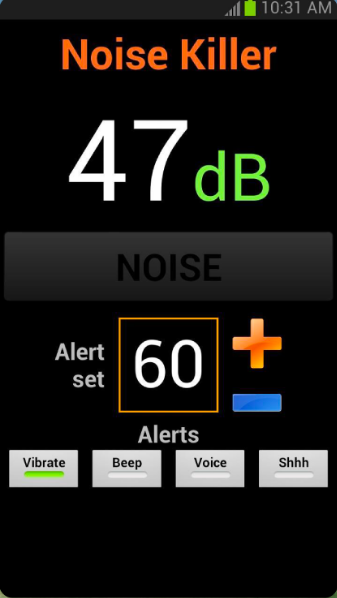 2.Noise cancellation app for iPhone
UrbanDenoiser
UrbanDenoiser is largely advertised as a music app, but it also works well for noise cancellation in other circumstances, such as video conversations.
In 2015, UrbanDenoiser won the Microsoft AppCup.
The app is available for download on iOS, Android, and Windows.
Key features
Noise reduction mode
Surrounding sound mode
Patented natural sound restoring
Sound amplification equalizer
Volume booster
Pricing plans
UrbanDenoiser is free to use, but you will see occasional ads.
How to use it
Download it here and you will see the interface below.
UrbanDenoiser includes various features designed exclusively for music fans. There is, however, an integrated noise correction mechanism that enables automated volume adjustment and frequency masking.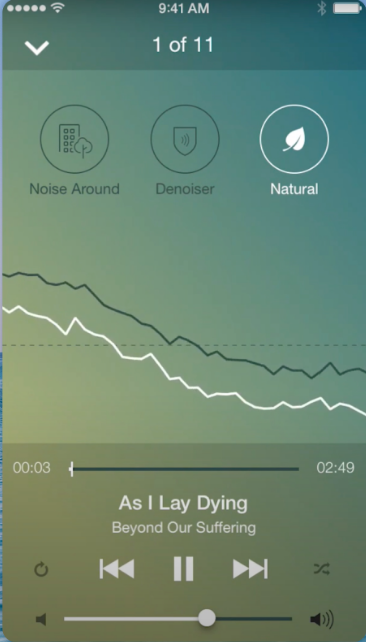 3.Noise cancellation APP for Windows
Krisp
Krisp is a comprehensive app for filtering background noises and delivering high-quality sound.
Key Features
AI-powered noise filtering system
Compatible with 800+ streaming and communication apps
Microphone noise removal
Speaker noise removal
Acoustic echo cancellation
Pricing plans
Free plan: 120 minutes per week of mic and speaker noise removal and acoustic echo cancellation.
Paid plans:
Personal Pro ($12 per month)
Teams ($12 per user per month)
Enterprise (custom)
How to use it
Download it here, you will see the interface then below.
The app comes with a button for canceling all types of background noises, from keyboard clicks to room echoes and street noises. You only click om the button of "remove noise", it starts to operate. It features AI-powered noise suppression that analyzes your audio feed and filters out all unnecessary noise, leaving only the speech signal.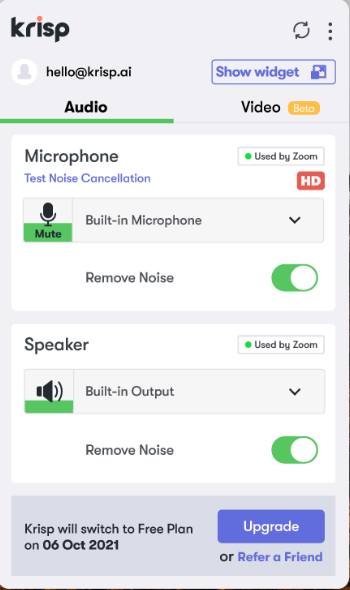 4.Noise Canceling App for Mac
Nearify
Nearify is a free noise canceling app for meeting freedom. Besides Mac, Nearify can also be download in Windows, Nearify works perfectly in any situations. On Mac and Windows desktop and laptop computers, Nearify works well with any headset, microphone, or speakers.
Its deep-learning noise suppression technology enables you to constantly sound professional without noise, muffling, or interruption, creating a fully immersive hybrid meeting experience.
Key features
Nearify for Windows/Mac has you covered!
AI-powered noise suppression
Pricing plans
Nearify is advertised as being free to use, so don't worry you will pay any fee for it.
How to use it
Download it from here. You can choose either Windows or Mac according to your need.
After downloading, you can click on the "Switch" button to apply noise canceling to both your microphone and speakers.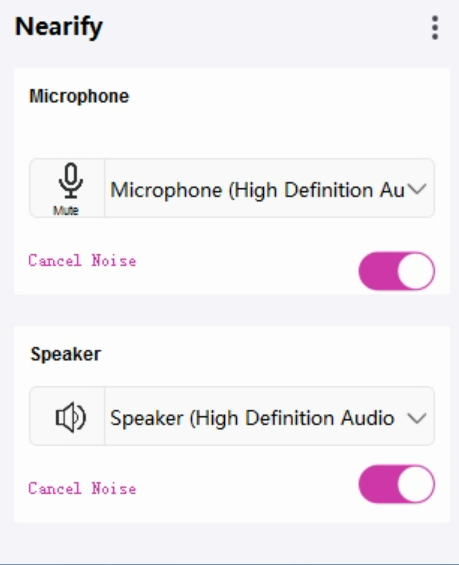 Conclusion
Among the noise cancellation apps above, Nearify is a free app without any advertisement and can be used in both Windows and Mac. Choosing a high-quality app can bring great convenience to our life. With cutting-edge technology, noise canceling app can effectively lessen unnecessary noise and enhance sound quality, so as to improve our work efficiency.
In the meantime, in addition to the noise cancellation app, a high-quality noise canceling headset from NUROUM will assist you in performing better in a virtual meeting. Consider investing in Nuroum HP30 bluetooth wireless headset. Visit NUROUM to browse a wide range of audio and visual equipment to take your virtual meetings to the next level.