What is Hybrid Work Policy and Its Template and Example
---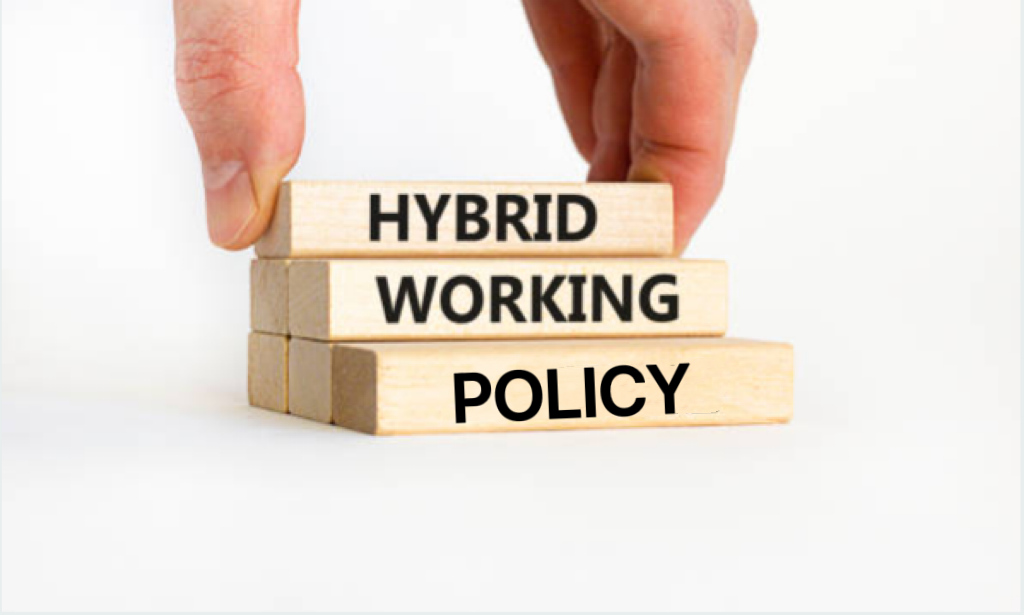 The term "hybrid work" refers to a sort of flexible working in which the whole workforce is divided into three groups: those who work in an office, those who work remotely, and those who are permitted to work both in an office and remotely. The people that make up these groups are often chosen based on preferences, job functions, and environmental factors.
What is Hybrid Work Policy?
A policy for hybrid working is a contract detailing the methodology and operational guidelines. You specify where, when, and how staff may work in explicit detail. Along with outlining which positions and individuals are eligible for hybrid employment, you should also explain down the legal protections afforded to hybrid employees. You can set expectations, address any problems or concerns, and hold hybrid staff responsible by providing this information up front.
The Benefits of Hybrid Work Policy
Why create a hybrid work policy? Establishing a hybrid work policy provides the following opportunities to companies:
Attract and retain diverse talent
Increase productivity and innovation
Build social cohesion
Reduce employment and real estate costs
Provide employees with increased flexibility
The Template and Example of Hybrid Work Policy
Here are a few sections that your template must include:
Policy brief and purpose
The purpose and execution of the policy are outlined in this section.
Example: The hybrid work policy of [Company Name] specifies the duties, security measures, and compliance requirements for remote workers. By describing the requirements and expectations, this remote work policy serves to protect the interests of the business and its employees.
Scope (Who is eligible for this policy?)
The hybrid work policy has its scope, that is, who is eligible for this policy.
Example: Any employee whose work responsibilities permit it is subject to this policy. However, employees cannot work from home in roles that demand constant face-to-face interaction with clients (such as those on the sales floor). Additionally, when possible, some exceptional circumstances may post exceptions.
WFH models (or anywhere)
This section describes the working models that should be expected while working remotely from the employee.
Example: Members of the team may work remotely:
Full-time
Part-time (splitting the day's work and home time)
on specific days of the week
No matter where you work from, we want to provide you the opportunity to deliver your best work.
There are some obligations associated with remote employment, though. Therefore, kindly continue to be accessible.
In the event of persistent issues, we do reserve the right to withdraw remote working privileges.
Hybrid work schedule
The work hours or the employee's time for all official communications are specified in this hybrid work schedule.
Example: The employee should be available on all workplace communication channels from Monday through Friday, 9 AM to 5 PM.
Communication
The organization's avenues for contacting team members, applicants, and vendors are all included in this section.
Example: All employees should use the following channels for all official engagements for which they will be granted access:
Technology and equipment
This section contains a list of the hardware and software that the business offers.
Example: xx laptop, a modem, keyboard, mouse, and internet will be provided by [Company Name]; the employee named in the policy is in charge of security. The hardware must always be password-protected.
Employee benefits and subsidies
Employees can use these stipends to build their remote workspace. Alternatively, give them access to personalized perks.
Example: Remote employees can get the following subsidies and benefits:
- $200 monthly "Working Smarter" reimbursement for work-related expenditures at coffee shops
-$500 per teammate: office setup at home
- $200 a year for office and technology requirements
- $850/year for further learning; Internet reimbursement allowance
Conclusion
Through hybrid work and its policy, businesses have started to understand that offering workers increased freedom and flexibility is essential to retaining their top talent. Also, for hybrid workers, it's necessary to have some audio and visual equipment to work remotely, so as to improve remote work efficiency.
NUROUM is dedicated to the auditory and visual experience. If you have any wish to enhance your online meeting conferencing ability with high-quality audio and video, NUROUM is always here to provide complete solutions to meet your demand. Please find out more information by joining our community.