Everything You Must Know About Noise Canceling Microphone
---

What is Noise-cancellation Microphone?
Noise-cancellation headset is necessary for frequent travelers, Work from Home, In-House Office, and mobile employees. With this technology comes the noise-canceling microphone. Noise-cancellation microphone is a device that helps the person on the other end of the line to hear your voice instead of the background noise, which is built to pick up your voice.
How Does Noise Canceling Work in the Microphone?
A noise-canceling microphone has two or more microphones picking up sound from different directions. The primary microphone faces your mouth, while secondary microphones pick up background noise in all directions.
The two microphones are in different positions and collect different audio signals. The microphone near your mouth collects more voices, and the microphone far from your mouth collects more surrounding noise. Combined with some digital algorithms, they "subtract" the surrounding noise from the equation, leaving just your voice. This makes your voice crisp and clear to your caller.
What Benefits Does Noise Canceling Microphone Bring?
A high-quality noise-canceling microphone enables crisp, clear calls and recordings on any Mac or PC. Its noise rejection allows for clear communication wherever you go.
A noise-canceling microphone is essential for virtual professional meetings.
First, delivering your voice to others without background noise makes you look more professional. This allows meeting participants to focus on your message rather than be distracted by your environment.
Second, it enables smoother meetings. By capturing your voice clearly, a noise-canceling mic reduces delays from asking you to repeat yourself. This speeds up discussion and feedback, improving work efficiency in noisy environments like bars or buses.
A noise-canceling microphone conveys a polished presence and facilitates productive communication in virtual meetings.
How to Choose a Suitable Noise-Canceling Microphone?
When choosing the best noise-canceling microphone for recording, great sound quality should be at the forefront of your decision-making process. Your mic should be able to reduce any unwanted sounds in the background.
Our recommendations
The first is FIFine USB Microphone. You can simply plug it into any available USB port and use it as input in the software setup to create your own audio, which is very suitable for singing, speaking and dubbing.
Another is Bietrun Computer Microphone with Noise Canceling. This USB microphone plugs in and is compatible with Windows and macOS. With its 1.5m cable, you can use the microphone for gaming, Skype calls, podcasting, virtual meetings, and YouTube videos.
For accurate and efficient voice interactions, a high-quality noise-canceling microphone is essential. A microphone that effectively minimizes ambient noise will capture your voice clearly, reducing the need to repeat yourself. It also keeps your caller focused on your conversation and less distracted by background noise; this is very important in a professional business environment—maintaining confidence and trust with your callers when pitching products and jotting down sensitive information.
A Quality Noise Canceling App Does Wonders.
Nearify, researched and developed by Nuroum, can upgrade your video conferencing experience. This noise-canceling App uses Nuroum ProperClean technology to eliminate background voices, noise, and echo in hybrid meetings, enabling you to speak confidently.
Here's a screenshot of the Nearify UI. Once you click the "Cancel Noise" below the microphone, your microphone will start filtering noise.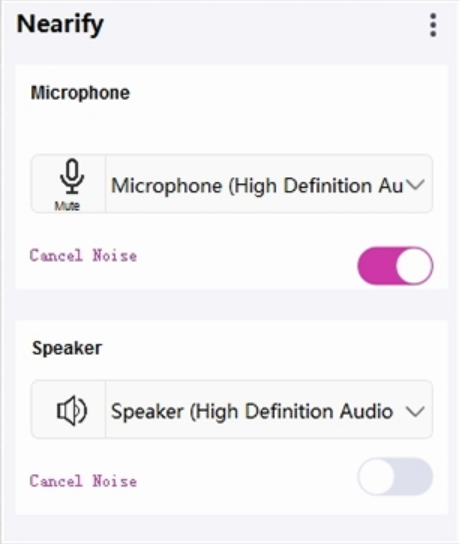 How Nearify Works
Visit the Nearify, and then you can find more information on how Nearify works.
With Nearify, you can have a better meeting experience without being constantly distracted by noise. Regarding its compatibility, Nearify works perfectly in any scenario. It is perfect for any headset, microphone, or speakers on Mac and Windows desktop and laptop devices.
Conclusion
A high-quality noise-canceling microphone can greatly enhance a successful virtual meeting. With the Nearify App, you can ensure a seamless virtual meeting experience.
In the meantime, in addition to the microphone with noise cancellation, a high-quality conference camera from NUROUM will assist you in performing better in a virtual meeting. Please visit NUROUM.com to browse a wide range of audio and visual equipment to take your virtual meetings to the next level.